Core Shines a Light: The Value of Purpose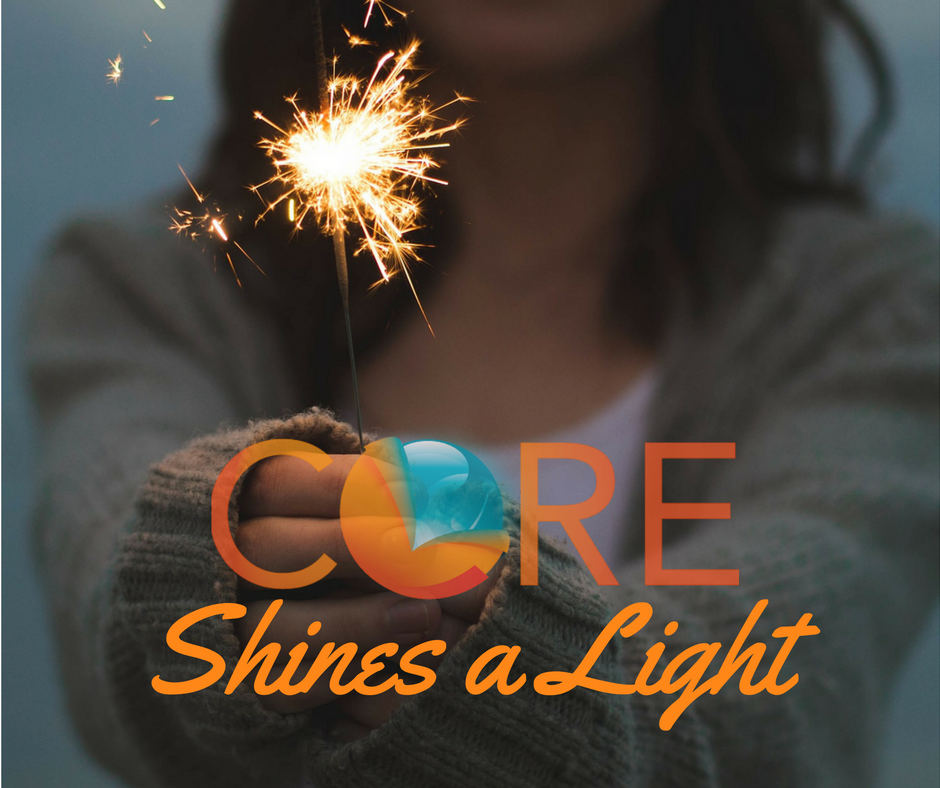 Over 300 leaders in the Northern Kentucky area convened Friday, May 5 for a full day of leadership development. Leadercast, the world's largest one-day leadership event, was simulcast to the local host-site in Erlanger where Core's team members had the opportunity to discuss what it means to be Powered By Purpose. Nine speakers with differing backgrounds and varying levels of experience were given a platform to discuss how purpose has played a role in their professional and personal lives. Feeling inspired and empowered, our team found many valuable takeaways from the day. When asked who and what stood out from Leadercast, here is what Core's team had to say:
JAMIE HOLTZAPFEL, PRINCIPAL CONSULTANT
"Everyone was designed with purpose in mind," says Andy Stanley, a powerful leadership communicator and best-selling author. Purpose is the reason for which you exist and there is a human need to do work that is meaningful and driven by purpose. It is challenging to connect work with purpose because it comes with a price. What is the price for a purpose-driven life? Andy's answer shared with the Leadercast community was simple… you need to be willing to move beyond "me." If you want to be powered by purpose, simply start by serving others.
Whether your greatest contribution in life is something you do or someone you raise, Andy believes centering your focus around the service of others will bring more meaning to life. You can position yourself for a more purpose-driven life by doing these three things:
1. Begin looking at everything you do through the lens of means. Selfless leaders are willing to be the means to an end.
2. Pay attention to what stirs your heart.
3. Surround yourself with on-purpose people.
Thank you Andy Stanley for encouraging many to think beyond themselves and to do more for others.
MAGGIE FRYE, FOUNDER & PRINCIPAL CONSULTANT
5 Jobs of a Leader (as shared by Dr. Henry Cloud, best-selling author and clinical psychologist)
1.     Vision: Leaders live in the future. Get into the mindset of "what can be."
2.     Talent: Acquire, align and develop the right talent who will bring the vision to life.
3.     Strategy: Answer – How are we going to get there? Formulate a strategic plan.
4.     Measures & Accountability: Answer – How will we know we've been successful? Hold people accountable to hitting those measures of success. Ensure your people have an "intimate relationship with reality" if things fall off track.
5.     Fix & Adapt: Keep eyes and ears open at all times, and with all stakeholders. Be keenly aware of the environment around you. Continuously assess how things are going and make adjustments as necessary.
As a leader, you don't need to have strengths in all five of these areas; rather, you need to make sure all five are present and working effectively. Surround yourself with complementary strengths. Thank you Dr. Cloud for another year of sharing your expertise with the Leadercast community!
AMY CLARK, OPERATIONS MANAGER
Oftentimes, I find myself getting wrapped up in day-to-day minutia: checking off to-do list entries, making plans and figuring out where I'm supposed to be the next minute, the next hour, the next day. I'm sure others can relate to the feeling of just getting by. The common denominator here is that we're usually serving others in most everything that we do. For me, this year's Leadercast: Powered by Purpose event served as a beautiful, empowering reminder to slow down and realize that there's power in the minutia when a mission of serving others stays at the forefront. That's the point of purpose!
KENDALL JOHNSON, COMMUNICATIONS MANAGER
A common theme woven throughout Leadercast was a discussion about how purpose is often overlooked and lost in the shuffle of the day-to-day. Something that everyone can surely relate to is looking back on the week and having successfully completed a number of tasks, but perhaps not giving any real thought to why. Sports agent Molly Fletcher talked about living with intention, which doesn't always come naturally. She says that when we change WHY we do what we're doing, it changes WHAT we do. I think there is so much value in recognizing that our schedules don't have to dictate our lives, rather we are in control of what constitutes our schedules based on what is important and valuable to us. Here are a few other tidbits I found useful from Molly Fletcher's session:
Fearlessness comes from a curiosity of what is possible in our lives; it can only be achieved by living in the present. The past says: What if I would've? The present says: What if I can?

If you are unhappy, have the courage to change your story. Start now!

Find out who deserves your energy and you will be able a more effective leader.

Broaden your focus and realize that the mosaic consists of those day-to-day's. Little moments create BIG outcomes!
Core's programs and services are designed around the principle of servant leadership, so it's no surprise that our team found value in the connection between service and professional success. As we strive to be effective leaders, Core continues to be an organization that is Powered By Purpose.